One of our newest homes, Monkey Lodge Hill, comes with a surprising backstory: the 'hill' it resides atop used to be a local water slide! We were lucky enough to score some original photos from back in the day.
Called Monkey Hill, locals fondly remember gathering here to take advantage of the naturally hilly summit and cool off on hot summers days. Now the vantage can be enjoyed out on the deck of our home, chilling in the hammock and gazing out at the rolling mountains beyond.
To keep with the historical theme of 'fun in the water', you can even enjoy the built-in hot tub on the back deck!
See more of this beautiful home at https://redbarnvacations.com/monkey-lodge-hill/
When you stay at any home or property in the Waterfront Greens community, you get access to an incredible community perk: FREE GOLF!
The feature is available to anybody staying with Red Barn Vacations at Fianna's Landing, Chateau Royale, the Stone House at Red Barn, or renting the entire Red Barn Inn, or any of the individual rooms at the Red Barn Inn. Pretty sweet deal!
With a par 3 difficulty, this is a walk-on and walk-only course that does not require any reservations. Clubs aren't provided, so you'll want to plan ahead and bring some clubs from home. Usually a driver, a mid-range club, and a putting wedge suffice if you are looking to cut down on bulk, but you are welcome to bring your full bag!
Directions to the course (only a one minute drive away) are provided once you check in to any of the eligible locations. There is also a community mini golf course near the entrance to the course. Bring your putting wedge!
Summer and Winter get plenty of love in Deep Creek, but Spring always falls under the radar. We are here to tell you why you simply need to put a Deep Creek visit on your calendar this Spring.
---
Why Spring is Secretly the BEST Time to Visit Deep Creek Lake:
Reason #1: An Instant Reset 
When life gets hectic, you need to hit pause and head to Deep Creek Lake. Come Spring, you'll find this place unusually quiet, with limited traffic, but an abundance of nature, wildlife, and opportunities to get outside. This is a place where you can start each day with a quiet stroll along the lakefront, coffee in hand, as the morning mist rolls across the water. It's the perfect reset and recharge, whether you are working remotely during your trip or not. Instantly, your state of mind is reframed and you are in a better place– literally and mentally.
While summer and winter in Deep Creek are known for their hustle-and-bustle and non-stop fun, Spring needs to be branded in a different way: as an opportunity for an instant reset.
Reason 2: Outdoor Adventures
As mentioned above, the outdoors truly come alive in the Spring. Ask any local, and most of us will tell you that Spring hiking, biking, and boating is some of the best of the year. You can get outside and move without working up much of a sweat, thanks to the brisker temperatures, and even area hot-spots like Swallow Falls State Park tend to be quieter, and more true to nature. Whether you are a hiker, kayaker, biker, or bird watcher– or something else entirely– Spring is a great time to get outside.
Reasons #3: No Wait at Bars and Restaurants 
The title says it all! Your favorite summer and winter restaurants are just as delicious– and the view just as good– in the Spring. But with no wait! That's right. The locals love the off-season in Deep Creek Lake for this very reason, but there is no reason why you can't take advantage of this, too! Stroll up to Firewater Kitchen, Dutch's at Silver Tree, Mountain State Brewing Company, Uno's Grill, or any of your favorite dining spots and get a fantastic table, right away.
Reason #4: The Lowest Pricing of the Season
There is no need to wait for specials in the Spring, the price shown is guaranteed to be the lowest of the season! Whether you are planning an intimate escape or a reunion among friends, saved money is always a good thing!
Reason #5: Spring is the ideal for hot tubbing! 
Summer can be too hot for some, while Winter can be too cold. The solution? Meet in the middle! Spring is brisk enough to crave a warm dip, but warm enough that you don't freeze on the way. All in all: perfect.
---
There you have it! Ready to make your Spring stay happen!
Search our inventory of homes at www.redbarnvacations.com/search-results 
Happy shopping!
A magical landscape blanketed in snow, hot tubs, fire pits, and some of the best winter activities around. There is so much more to winters in Deep Creek than just skiing (although that certainly is a HUGE reason to come)! Let's break it down:
Wisp Resort offers a wealth of activities from adventure sports and scenic adventures to indoor amusements, youth activities, and so much more. And lucky for us, Wisp Resort calls Deep Creek Lake home!
Best known for their winter sports– like skiing, snowboarding, snow tubing,  and cross-country skiing– Wisp Resort is actually home to dozens of different adventures, all year-long, making Deep Creek a perfect adventure sports destination, whether you are renting a cabin in the winter, an amazing lakefront home in the summer, or anything in between.
Here are some of the activities you can catch us doing throughout the year:
Winter Sports
Skiing, snowboarding, snow tubing, cross-country skiing… then back to Wisp Resort's cozy indoor lodge for hot chocolate or a refreshing beer. Sounds pretty perfect, huh? Wisp Resort has a host of packages available from partial and full-day tickets to multi-day deals and season passes. After a day out on the slopes, there is nothing better than returning to our fantastic vacation rental homes, all of which has outdoor hot tubs! In particular, we LOVE our homes All Decked Out, Loch Baile, and Hunny Home for an unbeatable winter experience.
@WISPRESORT ON INSTAGRAM
@WISPRESORT ON INSTAGRAM
Ropes Course
Fly high, soar and swivel, vault and lift, and work the muscles in your mind and body at the Wisp Resort Ropes course. From zip lines and swingings to climbing apparatuses and more, Wisp has two level of ropes courses for children ages four and up, and one adult-oriented course. A great activity for the fall, spring, and summer seasons!
Mountain Coaster
This is one of our favorite activities! Available in all four seasons, this unique activity can be catered to anyone, adult or child. Billed as a "gravitional hybrid of an alpine slide and a roller coaster" this fun ride will whip you down the mountain in a thrilling ride down the scenic mountainside. If you are a more 'slow, but steady' type of person, just know that every cart has it's own hand brake that you control. Or if you, like us, like to go fast… well, that's an option, too!
@WISPRESORT ON INSTAGRAM
Golf
Considering the abundant beauty, gentle slopes, and wide-open fields common to Western Maryland, it is no surprise that some of the east coast's best golf courses can be found at Wisp Resort. Fantasy Valley Golf Course and the Lodestone Golf Course are both within the Wisp Resort portfolio, with 36 holes between them. Over the years, these courses have gained numerous awards and accolades, including Lodestone being ranked as the #2 Public Golf Course in Maryland by GolfWeek Magazine (2012, 2013, 2014, 2015) as well as Golfstyles Magazine featuring Fantasy Valley as one of the "100 Must-Play Courses of the Mid-Atlantic."

@WISPRESORT ON INSTAGRAM
Scenic Chairlift
If you just want to sit back and enjoy the majesty of nature in a relaxing setting, then a trip up and down the mountain via the scenic chairlift is for you. Repurposing the ski lift in the non-snowy seasons, this is a great way to enjoy the view from the top. Summer and fall are especially excellent times to enjoy use of the scenic chairlift.
Pontoon Boat Tours
If you want to get a chance to explore the lake, without the expense or responsibility of renting your own boat, you'll definitely want to check out Wisp's pontoon boat tours. Seating a maximum of 12 people per boat, these hour long tours include a bit of local history along with your sightseeing.
Archery & Disc Golf
Wisp Resort also offers both Archery and Disc Golf courses for a fun new adventure for the whole crew! For Disc Golf, enjoy a ride up the mountain on the chair lift to get to the family-friendly course. Rental equipment is available. For Archery, your 30-minute session includes instruction, shooting time, as well everything you will need, including the bow, arrows, and an arm guard.

@WISPRESORT ON INSTAGRAM
Got an activity in mind? Maybe several? Be sure to book your stay with Red Barn Vacations for the best lodging experience at the lake.
One of the wonderful things about a Deep Creek vacation is unique and varied they can be! Each home brings something new and unique to the table, infusing your vacation with a special quality all their own. Let's take a look at how two of our lakefront homes compare: Bella Vista and Once in a Blue Moon!
What it Offers: Bella Vista is located smack dab in the heart of Deep Creek Lake! If you are looking for a summer vacation full of all your favorite things (Great dining! Lake views! Mini Golf and More!) then this is the house for you.
Within Walking Distance You'll Find: The Lakeside Creamery– only one other home separates you and the best ice cream at the lake. You can also walk to the Arrowhead Market, Uno's Pizzeria and the Honi Honi Bar.
Best For: Groups that like to get out and explore the lake!
You'll Be Surprised to Hear: Even with the home's fantastic central location, the back deck and lakefront patio both feel surprisingly quiet!
…..
…………………………..
What it Offers: A stunning and comfortable home with killer outdoor amenities, like large level lakefront lot, lake-facing fire pit, and private dock slip. This amazing home checks off a lot of boxes!
Within Walking Distance: The Waterfront Greens community golf course! To use this free par-3 community golf course, just pack your own clubs and walk on down! No Tee-times required– just head over and enjoy.
Best For: Family and friends groups that love spending time outside– especially for friends who love to golf together!
You'll Be Surprised to Hear: The Waterfront Greens community has tons of great community amenities other than just the golf course. Enjoy the catch and release fishing pond, community tennis courts, and sledding hill in the winter.
…………………………..
No matter what home you chose, you are assured of a wonderful vacation and time well spent in the company of those you love. Those are the indelible qualities of every DCL vacation; no matter the season, no matter the home. 
Guests often ask us a rather pivotal question: "What should I do while in Deep Creek?" To help answer that question, we've put together a hour-by-hour itinerary of some of our favorite things you can do in a single day.
One Day in Deep Creek 
9am: Wake up and take coffee out on the deck or dock. There is nothing better than slowly greeting the day from the comfort of your rental home. Whether you are perched high above the trees, overlooking the lake far below, like at Peregrine's Perch, lakeside on the dock, like at UnWined, or cozy under the trees, like at Wispy on the Rocks. Deep Creek is full of charming perches from which to greet the day. Don't rush this step.
Coffee from here, perhaps? (www.redbarnvacations.com/)
10am: Let's crack some eggs for a big breakfast at home. All our rental homes come with fully stocked kitchens, some with double appliances, and large dining room tables. This is the perfect opportunity to gather everyone near for a bountiful morning spread. Don't feel like cooking? Contact us before your stay and we can share the fabulous pre-fixed breakfast options available for delivery from a private catering chef.
There's room for the whole crew at UnWined! (www.redbarnvacations.com/)
11am: Hit the road! If you are a two-coffee person, like some of us at Red Barn Vacations, we recommend swinging by Canoe on the Run in McHenry or Trader's Coffee House in Oakland for a cup of something delicious from these quick and charming local cafes. Once you are good and awake, head out to one of the area's many amazing hikes. For new-comers to the area, you've got to hit Swallow Falls State Park to see Maryland's largest waterfall in a picture-perfect setting. For others, we'd recommend the Snaggy Mountain Rock Maze. This uniqued spot is lightly trafficked, but full of towering boulders that form a unique, natural maze. Kids and adults love it!
Photo curtesy of Snaggy Mountain's 'Only in Your State Feature' : (https://www.onlyinyourstate.com/)
1pm: Grab lunch! Some of our new favorite local places include the Vagabond Taproom, for lite fare along with an excellent selection of beer, or the Cassleman Cafe for sandwiches, salads, and yummy desserts.
2pm: From there, head to the Silver Tree Marine in central Deep Creek Lake to rent kayaks of Stand-Up Paddleboards by the hour. This marina has a great location for exploring the lake.
4pm: Next up, we'd check out the Branch Bender Cidery in Accident (town just before you hit the lake), as well as the Deep Creek Lavender Farm, also in Accident. If you are staying at our new home, Mulligan Manor, you'll want to grab a Tee Time at Lodestone Golf Course, which backs the home.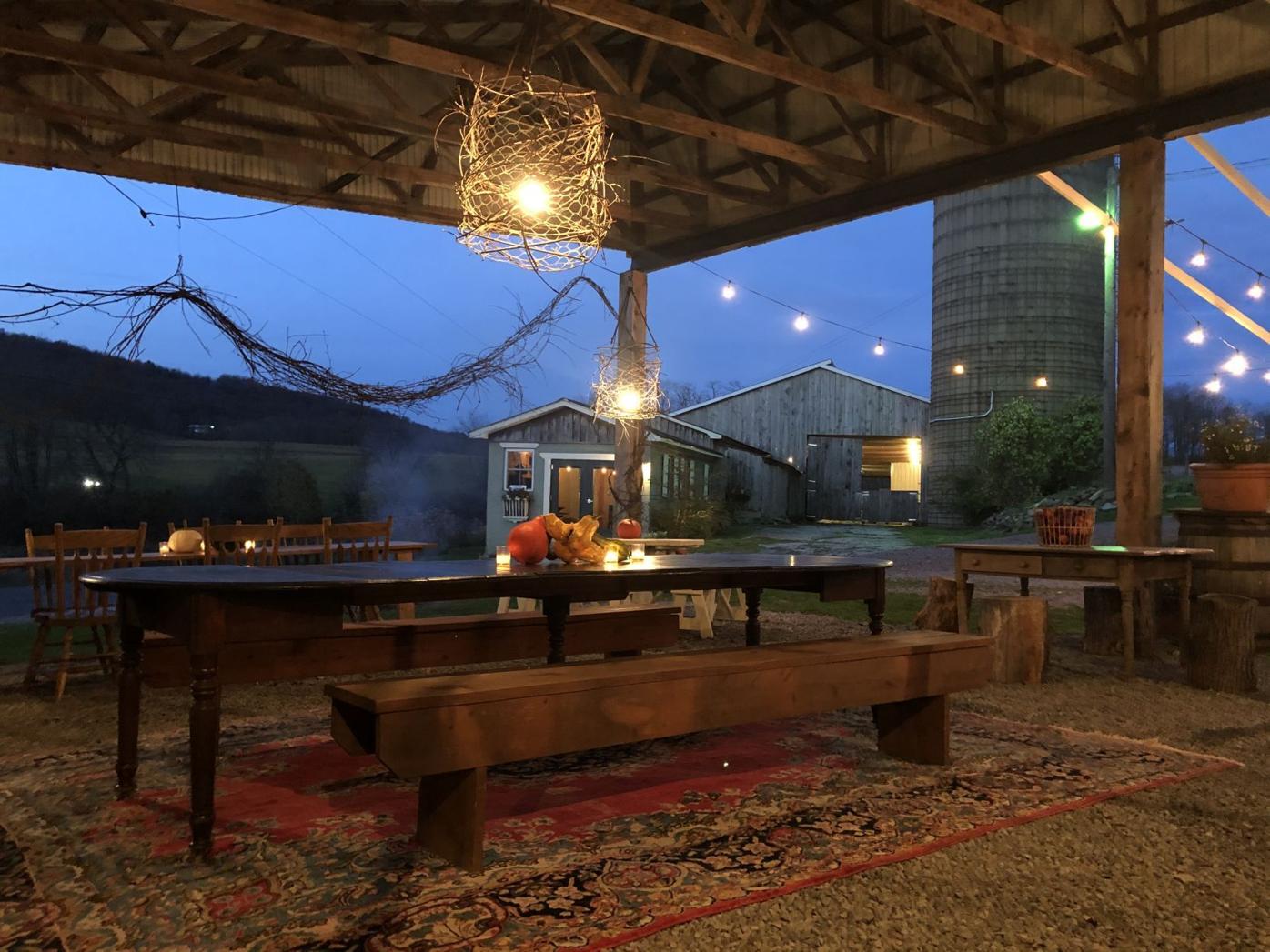 Tasting Area at Branch Bender Cidery
View of Lodestone Golf Course from Our Home, Mulligan Manor (www.redbarnvacations.com/)
6pm: While there are many awesome restaurants all across the lake, we are big fans of home-cooked barbecues. All our homes come with outdoor seating and outdoor grills. Take advantage of these amazing outdoor spaces before setting in for an evening of food, movie-watching, billards playing, hot tubbing and more. (Although, you may want to make a quick run out to the Lakeside Creamery for after-dinner ice cream. Just saying!)
Enjoy the lake from the deck at Bella Vista (www.redbarnvacations.com/)
(Bonus: Bella Vista is RIGHT NEXT DOOR to the Lakeside Creamery!)
Sounds like the perfect day to us!
Need to book a stay? Check out all our homes at www.redbarnvacations.com/search-results— and check back often! Our home inventory is growing!
Our homes are just getting better and better. We've got so many exciting renovations, upgrades, and revivals planned for the coming weeks. We can't wait to share it all with you!
Here's what we've got cooking:
– UnWined: Look for new flooring across the main level.
– Bella Vista: We are completing a major overhaul of the upstairs master suite with the addition of ductless air conditioning, as well as a full renovation of the master bathroom with a new garden tub and shower. Elsewhere, track lighting is being installed throughout the house and a new workspace with a desk (overlooking lake views!) is being added to the upstairs loft. Outside, under-decking was just installed for the hot tub and new Adirondack chairs are being added around the fire pit.
– Peregrines Perch: We are enhancing the property with new carpeting and furniture in the main level master bedroom, new TVs in every bedroom, and a fresh coat of interior paint throughout the whole house.
– Lake Shore Legacy: Getting an exterior facelift with a fresh coat of paint!
– Best of Both Worlds: We are so excited to see the new hardscaped fire-pit as well as four new bathroom renovations.
– Loch Baile: This come is currently in the midst of an extensive $100,000 renovation to their kitchen! It's going to be beautiful.  To celebrate the new space, a new dining room table is going in just next to it.
– Hunny Home: Guests are going to love the new sofa going in the main level living room.
– Ashford by the Lake: Tons of new furniture! Look for a new queen bed, two side tables, two new chairs,  a new coffee table, and new rugs.
– KooKooKaChoo: Expect upgrades throughout the home with new blinds in the kitchen and dining room, a super cool barn door added to the kitchen, new furniture in the loft (just added!), fresh main in the living room and staircases, and a new walkway down to the lake.

KooKooKaChoo's new game loft! Lots of seating, re-felted pool table, and lake-facing deck. It's a great space! 
We are so thankful for our quality-committed homeowners, dedicating to maintaining, and even improving upon, the experience in their homes. Look for updates and progress picks.
Exciting stuff!
Visiting Deep Creek Lake is not only filled with fun and exciting attractions year-round but also delicious restaurants ranging from mom and pop places to fine dining. They have something for everyone in the family. The variety is incredible and the atmosphere is even better. Here are a few of our favorite places to eat in Garrett County. 
Ace's Run Restaurant & Pub
Run by the son of Helmuth "Ace" and Evelyn Heise, the original developers and owners of the Wisp Resort, Martin, has been known around the lake for his delicious cuisine and stunning lake views. The owner's Martin and Brenda, of Brenda's Pizzeria and Traders Coffee, change the menu seasonally to feature the freshest food available and are the very first farm-to-table restaurants, sourcing locally grown vegetables, meats, and cheeses. They offer dine-in, pickup catering, and even carry-out. 
Address: 20160 Garrett Hwy Oakland, MD 21550
Archie's Barbeque
This family-owned and operated barbeque join proves exceptional quality service and overall experience when you visit. They have award-winning BBQ, as well as outdoor seating and a pet-friendly area. Try some of their smoked meats, brisket, or a few of their specialty sandwiches. Enjoy the smokey flavor of homemade BBQ while sitting back and relaxing while munching on great food. 
Address: 25259 Garrett Highway McHenry, Maryland 21541
Brenda's Pizzeria
At Brenda's Pizzeria, there is no need to decide on just one pizza, you can buy your favorite pizza by the slice. This way if there is a picky eater in the group, they can get exactly what they want without anyone having to sacrifice their favorite toppings. They also have pasta, stuffed shells, and salad. They are reasonably priced and are open every day from 11 Am to 9 pm. 
Address: 21311 Garrett Hwy Trader's Landing at Deep Creek Lake, Oakland, MD 21550-7206
Canoe on the Run
Stop in as you are coming into or leaving town for a delicious breakfast to energize you for the day.  Choose from indoor or outdoor seating, while grabbing a delicious breakfast. They have a variety of drinks from chai latte, to coffees and hot chocolate. Enjoy the fresh and hearty wraps, sandwiches, and much more.
Address: 2622 Deep Creek Dr, McHenry, MD 21541-1422
Dutch's at Silver Tree
At Dutch enjoy the crab cakes that are voted best on the lake.  From weddings and events to just a nice night of fine dining, Dutch's can do it all. Enjoy the rustic, warm, inviting atmosphere as soon as you step inside.  Enjoy a nice appetizer of sea scallops, crab soup, or opt for the lobster tail as your entree. No matter what you get, you will love it, the service, and the atmosphere. Come for the Friday night buffet, or choose from their regular lunch and dinner menu.
Address: 567 Glendale Road Oakland, MD  21550
Website: https://www.restaurantji.com/md/oakland/dutchs-at-silver-tree-restaurant-/
El Canelo
Enjoy a delicious Mexican fiesta at El Canelo. Try out their homemade tacos, chimichangas, chile Rellenos or your favorite Mexican dish. The place is bright, clean and a low-key atmosphere, perfect for a family night. The menu is large and there is something for everyone here, even the pickiest of eaters. 
Address: 12680 Garrett Hwy, Oakland, MD 21550-1160
Englanders
​This beautiful antique and unique restaurant has many items on display that will catch your eye the minute you walk in. The old school soda shop offers dinner food, awesome service, and plenty of tradition. Not only will you love the food, but you will love looking at or purchasing all of the antiques you come across. They have soup, sandwiches, and breakfast foods that everyone will love. 
Address: 205 E Alder St, Oakland, MD 21550-1513+
Honi- Honi Bar
This indoor and outdoor experience is the perfect way to end a day on the lake. Sit inside or enjoy a few games of cornhole outside. Grab a bucket drink or sit down for some delicious food, no matter what you choose you will have a great experience, as well as a wonderful atmosphere. From live music to a heated deck you will love the island atmosphere this restaurant offers. 
Address: 19745 Garrett Hwy, Oakland, MD 21550-7143
Lakeside Creamery
If you're visiting Deep Creek Lake, Lakeside Creamery is a must. This homemade ice cream shop is all about customization when it comes to creating your favorite ice cream. They have classic sugar and cake cones, as well as their fresh-made waffle cones. This lakefront view location makes it a hot commodity for those staying around the area. make sure to check out their food truck too.
Address: 20282 Garrett Highway, Oakland, MD 21550
Moonshadow
Take your skis off and unwind at the firepits of Moonshadow.  Kids receive free s'mores supplies with RFID cards from Wisp Resort. Enjoy the cozy fireplaces or head inside for a delicious meal. Choose from small plates, gluten-free options, vegan options, and much more. Moonshadow can cater to any dietary restrictions you may have and still deliver great food. Try out their Chipotle Beefalo Meatballs, or their Tuna Wonton Tacos for delicious flavor and a bit of spice. See the menu: https://www.restaurantji.com/md/mchenry/moonshadow-/
Address: 145 Bumble Bee Rd in McHenry, across from the college, McHenry, MD 21520
Mountain State Brewing Co
Enjoy woodfire pizza with a few of their local beers. This microbrewery is not only a great place for a few drinks but also delicious food and dessert. Try out their Nutella Flatbread, paired with your favorite beer. They have year-round favorites as well as all of the different seasons. The taproom and music hall offers seasonal kitchen offerings, brewery tours, and live music. Stop by for a delicious brew as well as a dynamite pizza. 
Address: 6690 Sang Run Road McHenry, MD.
Pine Lodge Steakhouse
Offering lunch, dinner, and a bar menu, Pine Lodge Steakhouse is the perfect place for a wonderful meal. Enjoy a nice New York Strip or opt for a bit of a surf and turf with filet and crab cakes. No matter what you get you will not be disappointed. Their house chefs take pride in the menu preparation for their entrees to ensure it meets their high-quality standards. Sit down in the beautiful dining room or browse around the gift shop while the chefs prepare your meal.
Address: 1520 Deep Creek Drive, McHenry, MD 21541
Trader's Coffee House
Trader's Coffee House is the perfect place in town for strong coffee, hot chocolate, and bagels by the dozen. Enjoy their array of sweets, carefully crafted drinks, and delicious deli sandwiches. Making a great cup of coffee is their first priority, so bring all of the coffee addicts here for a nice treat. Open daily from 7 am to 2 pm, make sure you stop by for a nice breakfast while visiting. 
Address: 21311 Garrett Hwy  Oakland, MD 21550-7206
No matter where you decide to eat during your stay in the Deep Creek Lake area it will be absolutely amazing.  At Red Barn Vacations their premium vacation rentals are centrally located making your drive to a delicious restaurant quick and easy. Whether you are going for Mexican or a pasta night, Deep Creek Lake has it all. We hope to see you soon here in Deep Creek to enjoy the delicious food, and beautiful atmosphere.
Experience the beautiful mountains of Garrett County as you climb to the top winding through Deep Creek Lake's best hiking trails.  Between the breathtaking state parks, forests, mountains, and open-space areas hikers of all experience levels will have a wonderful time. Explore over 80 thousand acres perfect for hiking and experiencing the abundant wildlife in their natural habitat as you climb the trails. The sights you will see are unlike anywhere else in Maryland.  Here are a few of our favorite spots to go hiking in Deep Creek and a few hiking tips as well. 
Hiking Tips
Hiking in Deep Creek will offer some of the best views in Garrett County. Whether you decide to hit the trails on your own or choose to go on a guided hike, safety must come first. Especially in the Winter, many of the trails are in natural areas that can present safety hazards such as slippery trails, so make sure you bring good footwear and a friend.  Some of our must-haves in our hiking bag are but are not limited to, first aid kit, snacks and plenty of water, sunscreen, rainwear, closed-toe shoes, and insect repellent. 
Big Run State Park
Big Run is considered the trailhead for a "hikers only" trail that is around 6 miles long. The trail is known as Monroe Run.  The trail was previously used by the Civilian Conservation Corps during the early 1930s and has since become a popular trail in Deep Creek.  It is moderately difficult and the perfect way to experience nature. Be sure to wear your hiking boots as there are no bridges and several areas where you will have to cross water. However, the breathtaking views will be well worth it.
Deep Creek Lake State Park
Deep Creek Lake State Park is located at the base of Meadow Mountain and has trails perfect for any experience level. The Meadow Mountain Trails like the Indian Turnip Trail are popular among many however, one of the most popular trails is the Brant Mine Trail, and it is a half-mile long and it leads its hikers to the historic Brant Coal Mine and Homesite, or take the high road and head to the fire tower. The coal mine was used by residents for heating and blacksmithing. The Park Naturalist and volunteers will often lead hikes and point out a variety of things like bird watching, wildflowers, and foliage identification. You can also opt for a signed and interpreted trail guide that can be requested from the discovery center. 
New Germany State Park
New Germany State Park offers hikers 10 miles of trails. The trails range from easy to advanced/ difficult.  They have a circuit trail system and it is popular year-round. Throughout the different seasons, you can see and experience the change of foliage. During the spring you can see beautiful wildflowers and even wild strawberries. During the summer you can see asters, milkweed and even daisies. Once fall arrives, you can start to see sugar maple, black gum, and red maple. Once the winter comes and the snow starts to fall, the mountain biking and hiking trails are groomed for cross-country skiing. 
Potomac Garrett State Forest
Spread throughout the southern and western parts of the county, this state forest has over 18,00 acres of land to hike. The western edge offers Swallow Falls State Park and Herrington Manor State Park.  The two parks are connected by a 5.5-mile easy trail. This beginner trail was formerly a logging road in the 1800s.  One of the more popular trails in Swallow Falls is the Canyon Trail and follows alongside the Youghiogheny River.  You will see many picturesque photo opportunities with 4 waterfalls, and 10 miles of trails located in the Herrington Manor that are perfect for those wanting to explore the forest and wetlands. 
Savage River State Forest
The Savage River State Forest is made up of 54 thousand acres running along the Savage River and the reservoir. It offers miles of rugged trails and is Maryland's largest state forest. The long winding trails are perfect for those who enjoy a backpacking adventure with wonderful photo opportunities. A crowd favorite is the Big Savage Trail, a 17-mile long path that runs by the ridge of Big Savage Mountain. You can travel through the oak and hickory, right before reaching the beautiful view at High Rock. You will need to stop by forest headquarters to pick up a trail map and a backcountry permit. 
No matter what trail you decide to explore, you will have a great time. At Red Barn Vacations, we offer premium-style vacation rentals that can accommodate any of your needs, including room for your hiking, biking, or even kayak gear. Choose from a variety of lakefront homes. We offer rentals in a variety of areas so you are never too far from the trails. Many trails have parking lots that are available for all day-use while you enjoy climbing the Garrett Trails. A few other trails that you may want to check out our Beckmans Trail and Muddy Creek Falls. We look forward to seeing you on the trails soon!